Model Numbers: BS28200 & BS28130.
Serial Number ranges: 72900000 to 95299999, and 00100000 to 04599999 only.
Certificate number SGS/180357, OTR200146, OTR200271.
Sold approximately July 2017 – November 2021
(Manufactured July 2017 - November 2020)
Defect: Water can penetrate the sealed electrical control board located on the rear of the refrigerator.
Hazard: The refrigerator may cause a fire, posing a risk of injury to a consumer, and damage to property.
The defect has caused fires resulting in property damage.
What to do: Consumers should immediately turn the refrigerator off, disconnect it from electricity supply, and contact Electrolux to arrange for a refund, replacement or a service technician to make a free of charge repair.
WHERE CAN I FIND MY SERIAL PLATE?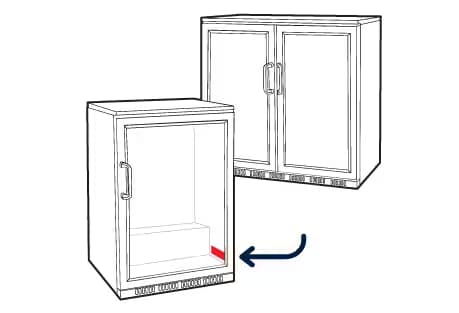 HOW DO I FIND MY MODEL NUMBER?
Your product model number is located on your appliance serial plate.
How to read the numbers on your serial plate:
(1) The model number, use this to search for user manuals or repair and service etc.
(2) Product Number Code (PNC), use this when searching for spare parts for your appliance.
(3) Serial Number, unique to your appliance.

Sample image of serial plate
Contact details: For further information, consumers can contact Electrolux Home Products toll-free number 1800 001 218 between 8am and 7pm EST Mon-Fri or email productrecall@electrolux.com.
For further information, please Download recall notice.
Please see https://www.productsafety.gov.au/recalls/electrolux-home-products-pty-ltd-%E2%80%94-beefeater-refrigerator