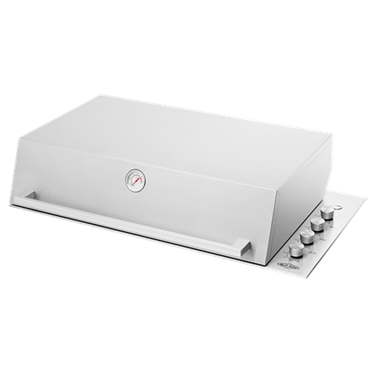 Signature ProLine integrated 6 burner built in BBQ with Hood
Signature ProLine integrated 6 burner built in BBQ with Hood, stainless steel
A five-star barbecue experience
Our broad range of optional extras can help you create your perfect barbecue. Plus, whether you prefer an open grill or a solid hotplate, our range of customisable cast iron furnishings offers different cooking configurations to suit your needs.
Effortless entertaining
Turn everyday outdoor entertaining into a gourmet experience. The optional integrated QuadBurner™ is designed to sit alongside the integrated barbecue. With uncompromised power and lashings of style, you can easily cater to any number of guests and their tastes.
Intensive Cleaning Cycle
Keep your cast iron hotplate and cast iron grills looking their best with our quick and easy cleaning feature. Simply open your barbecue hood or lid, remove any stainless steel attachments and turn on all burners to boost level. In 30 minutes, cooking residue will turn to ash, so all you need to do is wipe clean.
Superior oil management system
Healthier cooking and an easy-to-clean barbecue are yours thanks to the superior oil management system. Oil and waste run into easily removable containers at the front of the barbecue, while the unique angled surface drains oil away from food.
Reliable cast
Enjoy fast heat-up, superior heat retention and consistent cooking results with the cast grill and cast hotplate. The cast elements are also simple to clean, so you can keep your barbecue looking its best for many years to come.
Intuitive controls
Designed for form and function, the ergonomic controls complement any suitable bench or workspace. Each control features power level indicators to eliminate guesswork and ensure perfect results every time.
Cast Hotplate
Take your barbecuing to the next level with the cast hotplate. Designed to fit over the four centre burners of the barbecue, this clever cast iron hotplate will have you cooking like a pro. With one control igniting two burners at a time, simply select your desired heat level and enjoy the ideal set-up for consistently even grilling, searing or roasting.
Even heat distribution
The state-of-the-art cooking surface features six powerful burners to ensure precise heat distribution and amazing results every time. Plus youll enjoy peace of mind knowing that your food will always be cooked evenly and just the way you like it.
Made for style and durability
Designed to withstand our tough Australian climate, all stainless steel components are commercial grade. So youll enjoy great looks and a superior performance for years to come.
Sleek linear design
With its distinctive linear design, the Beefeater Signature ProLine™ barbecue range is sure to impress. Sleek lines, cutting-edge style and a top-class range of innovative features have created the perfect addition to your outdoor entertaining area.
Key features list
Cast furnishings for consistently even cooking
Commercial grade stainless steel components
Optional barbecue extras available
Superior oil management system
Intuitive controls with power level indicator
Six powerful burners for even heat distribution
Made for style and durability
Specifications
Key Specification
Design Family:
Signature ProLine
Stainless steel grade:
commercial grade, 304 grade
Included Accessories:
gas conversion kit
Gas connection set up:
NG
LPG Conversion Kit available:
yes
DIMENSIONS
Total height (with lid closed) (mm)

212

Total height (with lid open) (mm)

615

Total height (mm)

212

Total width (mm)

1053

Total depth (mm)

540
Burners
Number of burners

6

Burner material

stainless steel

Type of Ignition

electronic

Flame failure

Yes

Side burner features

reversible cast iron hotplate

Total burner power (MJ/hr)

71

Burner power (MJ/hr)

11.8

Vaporiser material

stainless steel
Reviews
* BeefEater has recently offered their customers a chance to win a reward to encourage them to write a review. It is possible that reviews were written by customers who received such a reward. It is also possible that some reviewers of BeefEater received free product in exchange for their review.
Thank you Maddie at Harvey Norman Rothwell for suggesting to go AEG on all your appliances Loving the ComforLift and the program light on the floor, no more opening the door
Thank you for submitting a review! Your review is being moderated and may take up to a few days to appear.
Your review was submitted!
Product Registration
We exist to redefine what you expect our of your cooking appliances.