Like a regular choccie biscuit to a Tim Tam, an outdoor kitchen is a step up from a barbecue. It adds the next layer – in this case, a preparation space and storage you need to make alfresco cooking as smooth a process as it is inside your home. Because life is better lived outdoors.
From convenience, to layouts and finishings, here's what to consider when designing your outdoor kitchen.
1. Think about the purpose
Is your outdoor kitchen going to be used as a supplementary cooking space, or standalone kitchen? The answer to that question, will impact what amount of storage and prepping space you'll need.
2. Map out a design
Get the tape measure and pencil out and draw up a basic structure and size of your outdoor kitchen, based on the space you have. You can then start looking at its functional layout. Much like an indoor kitchen, one simple design approach is to divide the outdoor kitchen into three main zones: preparation, cooking and serving. If you need some guidance BeefEater's outdoor kitchen range is purpose-built to create the ultimate outdoor space. Featuring quartz benchtops and storage doors, practical deep and wide drawers and quality fittings, you can choose from one of our preselected options to help you design your perfect outdoor barbecue space.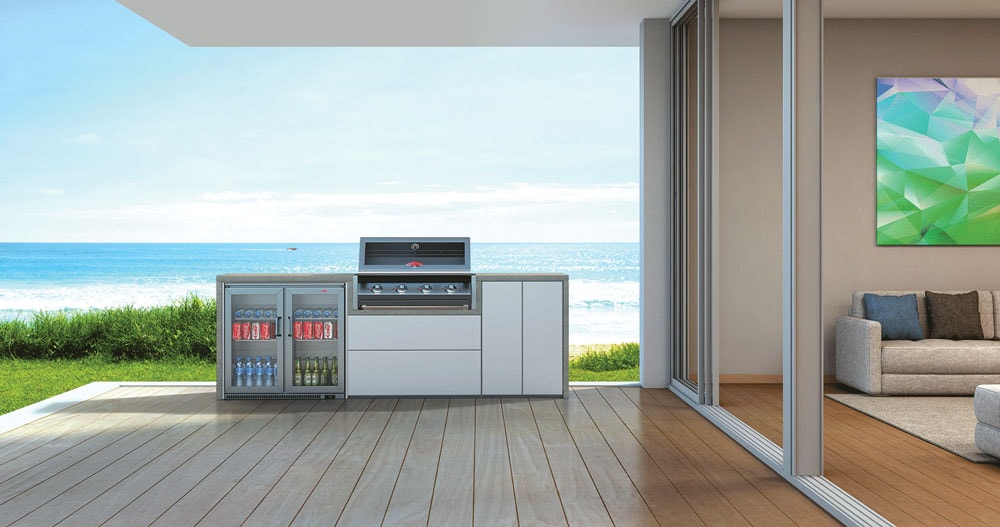 3. Choose your layout
Along one wall
Best for smaller, budget-friendly spaces or outdoor kitchens where there's only one cook, you'll still want two worktops, one for food prep one side of the barbecue and the other for serving, which could also have an outdoor fridge built in.
L-shaped outdoor kitchens
Best for a couple of cooks where you can also incorporate extras like an outdoor display fridge and standard height benchtop (90cm) which acts as a bar or buffet. The L-shaped outdoor kitchen design also lends itself to practical deep and wide drawers, so you have the right equipment when you need it.
U-shaped outdoor kitchens
Best for freestanding kitchens with multiple appliances and serving areas, you might want to think about some open shelving too, in your U-shaped outdoor kitchen. Plus, a storage bench is a nifty place to stash blankets, cushions and tablecloths.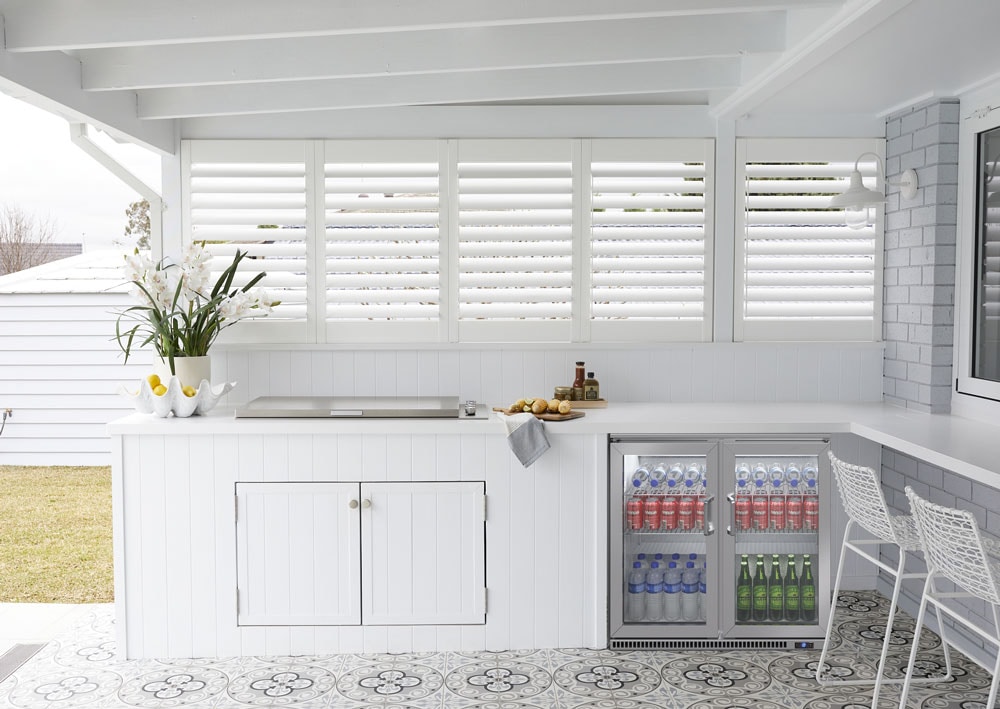 Island
Best for creating an entertaining hub, you'll want a built-in barbecue for this type of design, like the BeefEater Signature ProLine™ BBQ. The 6 burner barbecue offers superior control and even heat distribution, with added safety of flame failure, a super oil management system and optional barbecue extras so you can build an outdoor kitchen to suit your tastes.
4. Consider access and convenience
You'll be buggered hauling food and supplies down the backyard, so if space allows it, keep your indoor kitchen close-ish to your house. It'll also save on the expense of running utilities down there.
5. Think about where the sun shines
To avoid mopping a sweaty brow on hot summer days, place seating where you won't be facing the intense rays of the setting sun and consider shelter. With fixtures and fittings from Germany made to last and premium quality quartz stone worktops, the BeefEater range will stand up to the elements.