There are some things that are just better outdoors. The echo of cracking a beer can. A grazing board in the sun. A summer playlist. Cooking Thursday's dinner on the deck with the family underneath a flowering bougainvillea canopy.
At BeefEater, we're all about the simple things in life, done well – like cooking outdoors together – so what better way than creating a backyard outdoor garden kitchen oasis. Here are three ways to achieve it.
Vertical garden
If you have limited outdoor space, a vertical garden might be the perfect solution. By zoning your entire outdoor kitchen using vertical garden structures, you can make the space feel like a flash restaurant's alfresco seating area.
Whether you've got a flexible compact barbecue like the Bugg on your balcony, or a larger freestanding barbecue like our easy-to-assemble 1000 or 3000 series which feature a roll away hood that allows them to sit snugly against the wall, the same rules for vertical gardens apply.
Apart from hiding undesirable walls, or providing some privacy screening and sound absorption, a vertical garden makes the perfect backdrop to alfresco evenings. As a general rule, choose plants that are more sun tolerant towards the top, whereas the ones down the bottom tend to be more protected. Also put thirstier plants lower because any watering makes its way down, so they stay hydrated for longer.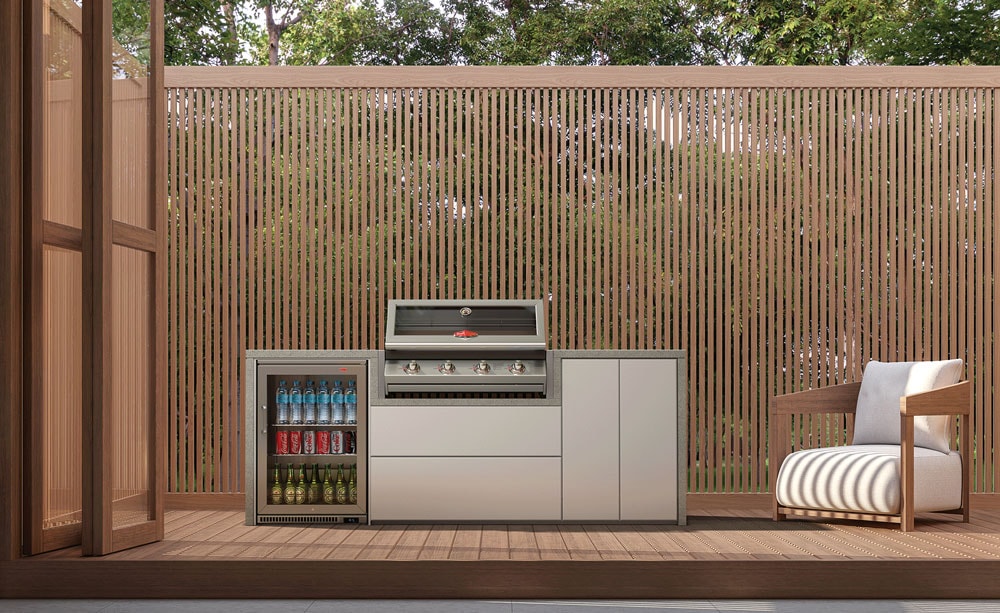 Canopy garden
Frame your outdoor kitchen or barbecue space with a wooden pergola, covered in lush foliage to help form a natural canopy that makes the most of open-air dining, while also offering the perfect setting for some fairy lights on special nights. Plus, it can provide some shade during the hottest time of day.
In Australia, you'll want to opt for climbers like wisteria, ornamental grape, star jasmine or bougainvillea. Since it's not a full roof, you'll need to consider the materials used in your outdoor kitchen. BeefEater uses German grade stainless steel and durable marine-grade-plywood cabinets in our outdoor kitchens that are durable and also water resistant. The cabinets have the charm of painted wood, but won't rot and are maintenance-free – just hose it down to clean it when you're giving your climbers a water.
Herb garden
There's nothing better than handpicked mint in your mojito or fragrant basil on your barbecued pizza, so why not create a herb garden next to your outdoor kitchen? Once you've built-in your barbecue, like the BeefEater Signature ProLine™ BBQ integrated 6 burner, you can place pots on shelves above. Plant herbs that work with barbecuing like perennials including mint, rosemary, thyme and sage. Annuals or biennials, like parsley, last one to two seasons and need to be replanted each season. Mix them with grasses so you've got a tasty and textured display in your entertaining space.
If you're worried about any wilting, a high performance low noise rangehood, like our Signature Proline Outdoor Canopy Rangehood can be handy to extract fumes and smoke from grilling.