We Aussies know there are some universal truths: life tastes better outdoors. It just does. Beers taste better out of the ice bucket. They just do. Cooking on the barbecue is more satisfying. It just is.
Whether it's a crisp winter arvo, or avoiding the hot slog in the kitchen when the mercury's high, cooking and eating alfresco is where it's at.
But to make sure you're not legging it back to your indoor kitchen for tongs, the wine bottle or cooking oil every five minutes, here's what every great Aussie outdoor kitchen needs.
1. A barbie
Whether it's the powerful but compact Bugg, a freestanding burner barbecue or inbuilt one, every outdoor kitchen needs a reliable, durable and easy to use barbecue to enjoy now and for years to come. What you choose will depend on whether you want your outdoor kitchen to be fixed or moveable, the space you have and whether your outdoor kitchen is going to be supplementary to your indoor one, or a self-sufficient space.
2. Prep space
So you can rest and season that perfect steak and wok fry those mussels, you need bench space to do it. A great idea is to have one side of the barbecue for food prep and the other for resting those elbows (and beers) when entertaining. After all, congregating around the barbie is half the fun. You'll want robust, but beautiful materials that are suitable for all weather conditions. Think premium quality Quartz stone worktops, durable stainless steel and durable marine-grade-plywood cabinets.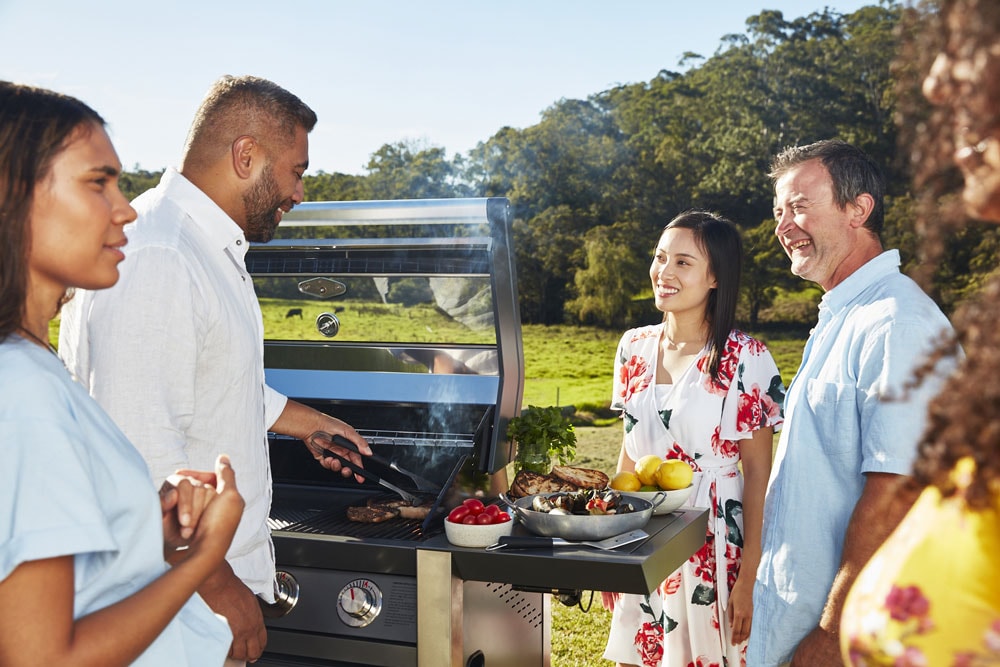 3. Cold ones
Apart from Bob Hawke skulling beers, is there anything more Australian than a second drinks fridge? Instead of a yellow-tinged power-guzzling second hand one from nan's old place, you're better going for a purpose-design outdoor fridge. Our BeefEater fridges are designed for the harsh Australian climate, with the power to keep your drinks perfectly chilled on even the hottest days thanks to the insulated double glazed glass doors with stainless steel frame. Whether you go for a single, or double door for your outdoor display fridge, plus what litreage will depend on the space you have available.
4. Serenity
Turn up the heat but not the toxins by adding a rangehood, providing you with more protection from smoke, toxins and grease from cooking and grilling. How's that serenity? BeefEater's quiet Signature rangehoods are designed to minimise grease and smoke when grilling alfresco and to perfectly complement the Signature barbecue range. Plus, when you choose one of our outdoor kitchens, the purchase price includes delivery, assembly and connecting of the appliances (gas conversion and accessories are not included).
5. Somewhere to park your bum
Your seating options are about as endless as sausage flavours. Whether you go for an outdoor dining table and chairs, patio set, lounge suite or breakfast bar with stools, make sure you've got enough space for your family and mates, now and in the future. Measure up and go for quality, easy care materials.