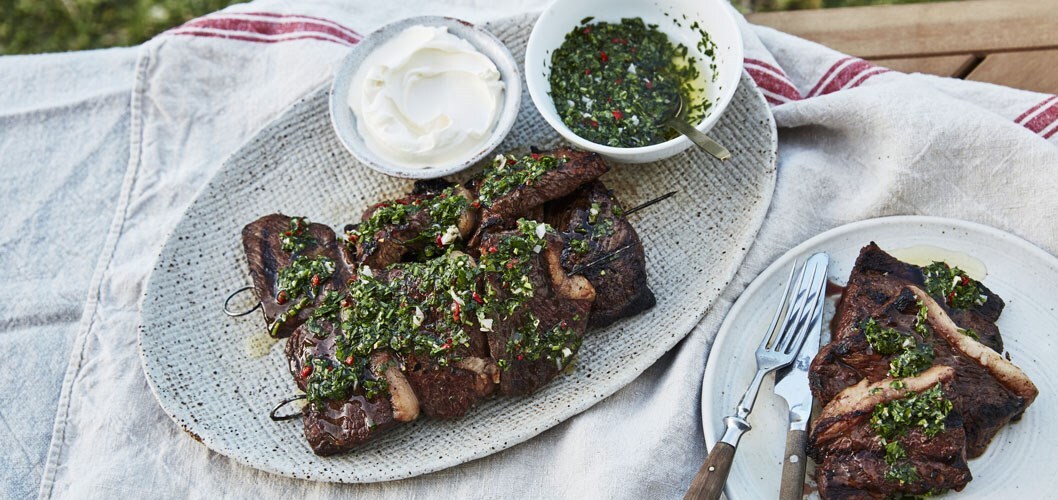 Skewered rump with chimichurri sauce
22 mins
Super Easy
4 people
Ingredients
2kg piece beef rump cap
2 tsp peri peri sauce
1 orange, juiced
sour cream to serve
Chimichurri Sauce
½ cup olive oil
2 tbsp red wine vinegar
¾ cup finely chopped parsley
2 sprigs fresh oregano, chopped
2 cloves garlic, finely chopped
2 small red chilies, finely chopped
Procedure
Heat the Beefeater BBQ to medium to high heat.
Cut the rump into two to three slices before cutting them into 5cm pieces.
In a large tray, combine the peri peri sauce with orange juice.
Thread three pieces of rump onto metal skewers and place into the peri peri mixture till ready to cook.
Cook skewers on the BBQ for 2 minutes each side until charred.
Reduce heat to medium, close the lid and cook for 4-5 minutes depending on how you like it.
Remove from the BBQ and place on a plate, cover with foil and allow to rest for 5 minutes.
Combine the chimichurri ingredients and serve with the rump and sour cream.