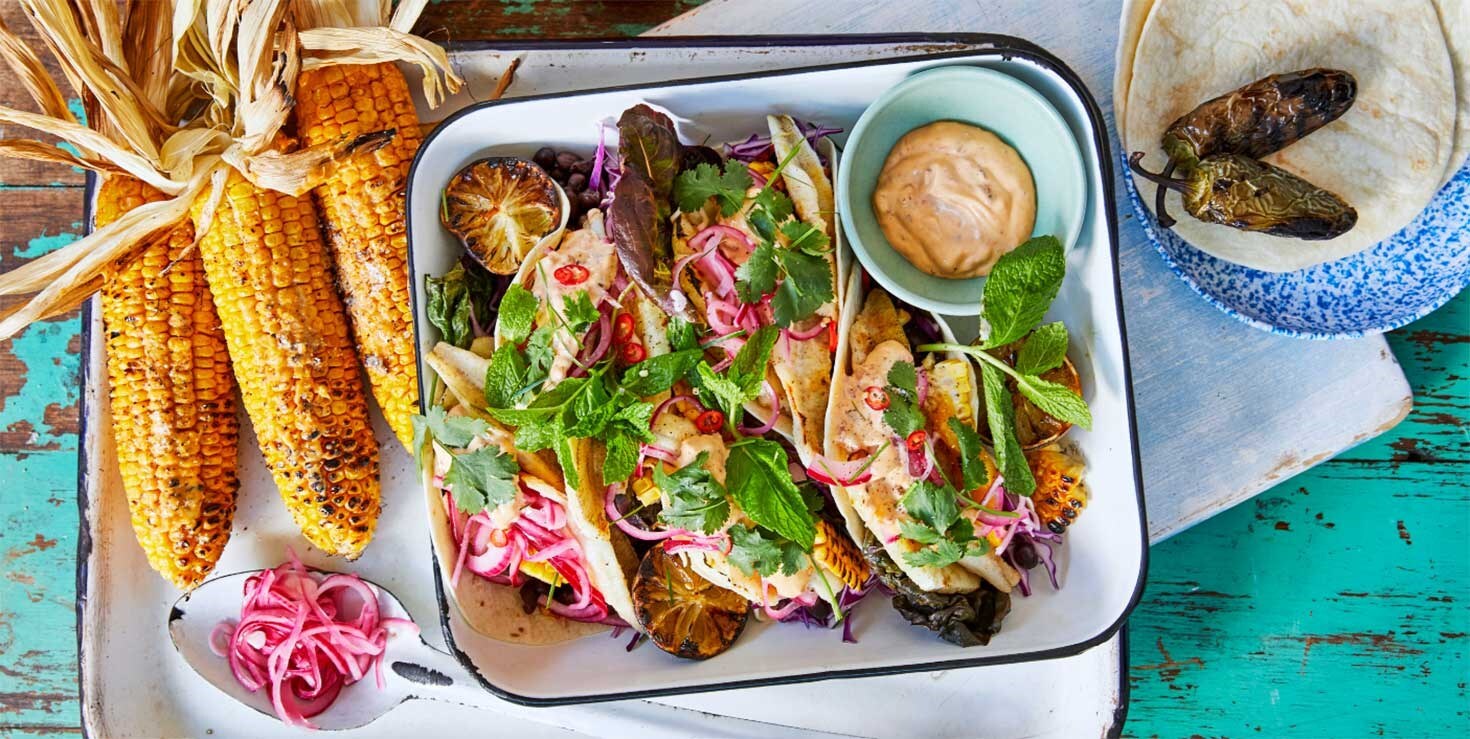 Fish Tacos
Moderate
Ingredients
1kg of sand whiting fillets
100g rice flour (to rub fish)
Olive oil spray
1 pineapple, sliced into crescents
1 red onion
200ml white vinegar
100g white sugar
50g sea salt
1 head radicchio
¼ head of red cabbage
1 ripe mango
4 ears of corn
50g butter
Paprika
1 tin of black beans
100g kewpie mayonnaise
1 tin of Mexican chipotle
Red chillies (for garnish)
1 bunch coriander (for garnish)
1 bunch mint (for garnish)
Traditional Mexican flour tortillas
Procedure
Pickled red onion
Peel the onion and cut in half. Slice into thin crescents.
Combine white vinegar, sugar and salt, and add the onions, mixing well.
Set aside for a minimum of 20 minutes.
Chipotle Mayo
Combine kewpie mayonnaise, a tin of chipotle chillies and lime juice to taste.
Use a stick blender to combine ingredients.
Corn
Boil a pot of salted water. Peel back the husks of the corn (do not remove) and boil the corn until soft.
Pre-heat the BeefEater 1500 Series BBQ to 200°C.
Coat the corn with olive oil and chargrill on the hot plate until slightly blackened.
To serve, slather in butter, pepper, salt and paprika and slice down the sides so that the kernels fall away in sheets.
Pineapple
Cut your pineapple into discs and then into thin slices. Remove the core.
Lightly spray pineapple with olive oil spray and cook on hotplate of the BeefEater 1500 Series BBQ until caramelised.
Cut into smaller slices.
Limes
Cut in half and lay face down directly on the BeefEater 1500 Series BBQ hotplate until slightly charred.
Red Cabbage
Slice with a mandolin as finely as possible.
Mango
Slice cheeks off mango, peel and then cut into thin strips.
Radicchio
Cut into wedges and then grill until slightly charred.
Black Beans
Strain and set aside.
Fish
Dry fish on a paper towel and then lightly dust with flour, salt and pepper.
Ensure the BeefEater 1500 Series BBQ hotplate is well oiled.
Cook fish quickly (1minute per side) or until the outside is crispy (do not overcook).
Tortillas
Heat briefly on the BeefEater 1500 Series BBQ hotplate.
Assembly
Take 1 tortilla and layer with red cabbage, radicchio, black beans, pineapple, corn, whiting, mango
Top with pickled onion, chopped chilli, coriander and mint leaves.
Dress with chipotle mayo and a squeeze of lime.