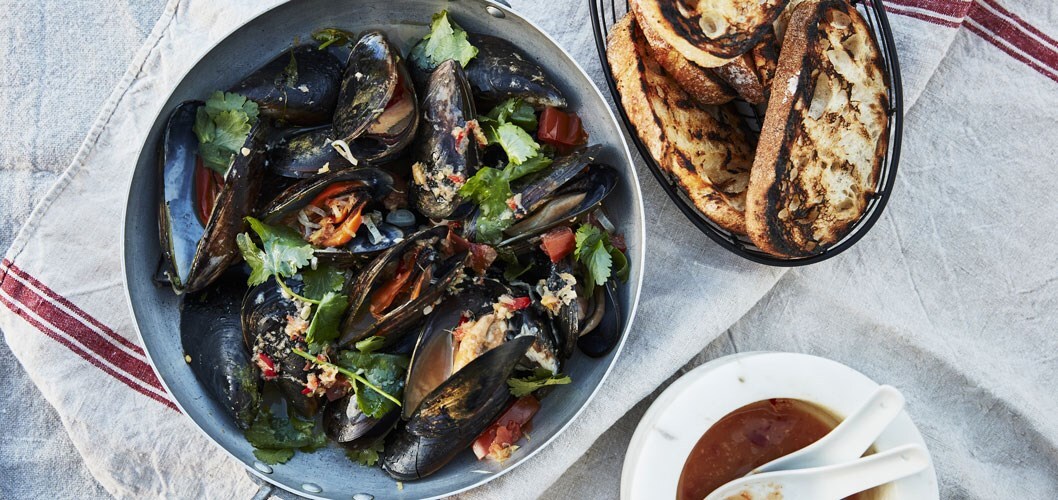 BBQ mussels with Nam Jim dressing
25 mins
Super Easy
4 people
Ingredients
2 tbsp sunflower oil
4 shallots, sliced
4 cloves garlic, sliced
1 x 3cm piece ginger, grated
1 cup chicken stock
2kg black mussels
2 lime leaves, crushed
2 tomatoes, chopped roughly
½ cup coriander leaves, picked
6 slices sourdough bread
Nam Jim dressing
2 cloves garlic, crushed
1 x 2cm piece ginger, grated
2 red chillies, chopped
2 coriander roots, cleaned
3 limes, juiced
2 tbsp brown sugar
Fish sauce
Procedure
Heat the Beefeater BBQ Wok Burner to high heat.
Add oil and sauté shallots, garlic, and ginger for 1 minute.
Pour in stock and mussels and bring to the boil, with the BBQ lid on.
Cook for 4 minutes till mussels are open.
Add tomatoes and coriander to mussels and toss to combine.
Heat the Beefeater BBQ Chargrill to medium and grill the bread till toasted.
Combine garlic with ginger, chilli, and coriander roots in a mortar. Sprinkle with a pinch of salt and crush with a pestle till broken down.
Add lime juice, brown sugar, and stir to combine. Serve mussels with Nam Jim sauce, and chargrilled sourdough.