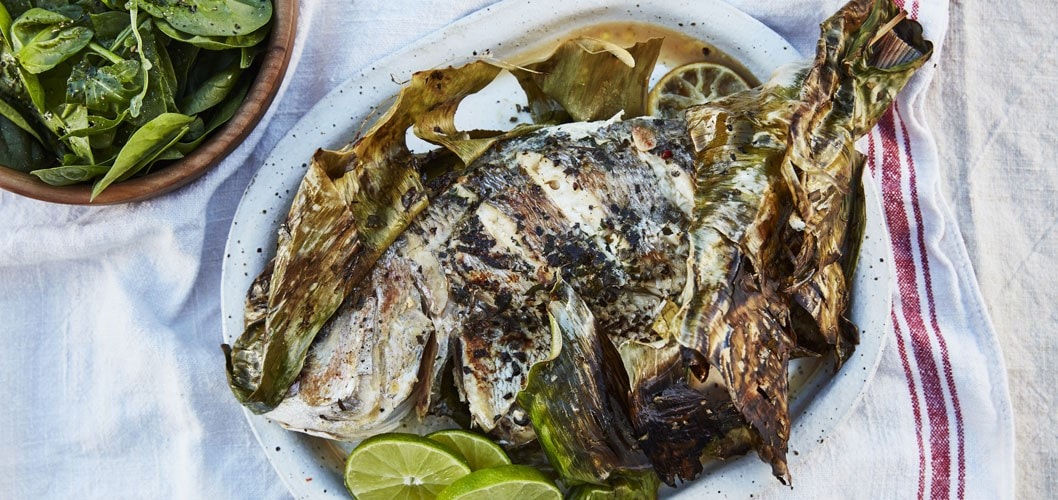 BBQ whole snapper with a lemon myrtle butter, and lime
22 mins
Super Easy
4 people
Ingredients
750g whole snapper, cleaned and scaled
50g softened butter
2 tsp dried lemon myrtle leaves
2 tbsp chopped parsley
2 limes, sliced
1 large banana leaf
Green salad leaves to serve
Procedure
Score both sides of the snapper.
Heat Beefeater BBQ flat grill to medium-low.
Season both sides of the snapper with salt and pepper.
Combine butter with lemon myrtle. Push into the slits in the flesh of the snapper on both sides.
Tear off a large piece of baking paper and place on top of a large banana leaf.
Place the sliced limes on paper with the snapper on top.
Fold over paper and banana leaf, and secure snapper with a skewer or string.
Place the parcel on the flat grill and cook for 10-12 minutes.
Serve snapper with green leaves.