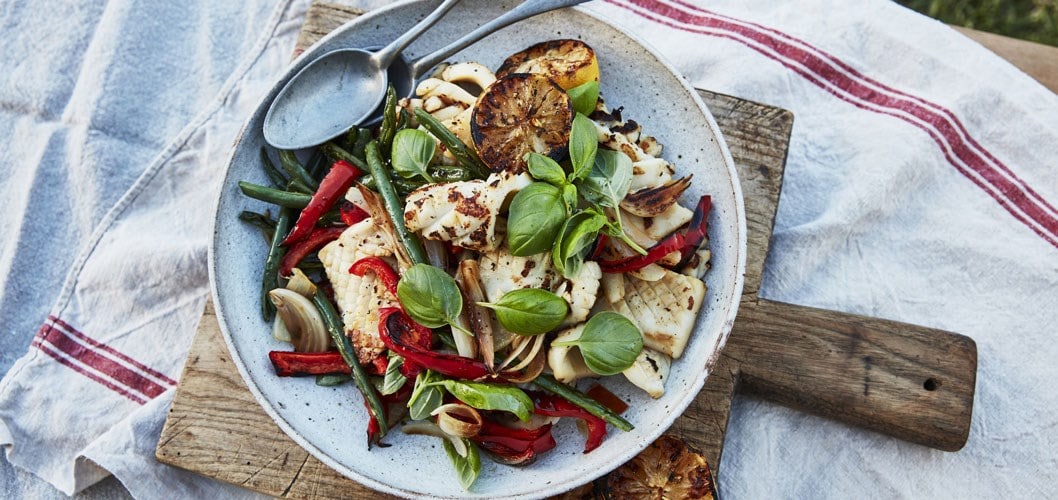 Char grilled chilli and garlic squid with green beans and manuka honey
20 mins
Super Easy
4 people
Ingredients
1kg squid tubes
3 tbsp olive oil
1 tsp crushed pink peppercorns
2 tbsp manuka honey
2 cloves garlic, crushed
1 onion, sliced
1 red capsicum, sliced
200g green beans, trimmed
Basil leaves to serve
1 lemon, halved
Procedure
Split squid tubes in half opening flat.
Score the inside of the tubes with a small sharp knife in a criss-cross pattern.
Place tubes in a bowl and drizzle with 2 tablespoons olive oil, sea salt, pink peppercorns, and honey.
Heat Beefeater BBQ to high on both char grill and flat plates.
Cook squid for 2-3 minutes each side on the chargrill till charred.
Drizzle onions, red capsicum, and beans with remaining olive oil, and cook on the flat grill for 3-4 minutes till golden.
Combine with squid into a large bowl and scatter with basil leaves.
Place halved lemon on the flat or chargrill and cook for 1 minute till golden and soft.
Squeeze lemon over squid and serve.