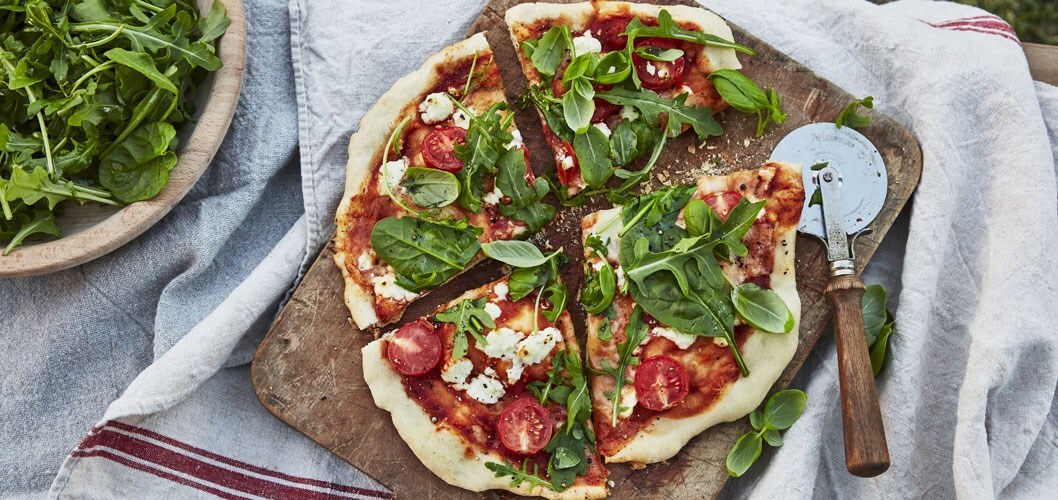 Goat's cheese and spinach BBQ pizza
26 mins
Super Easy
4 people
Ingredients
4 tbsp instant yeast
2 tsp caster sugar
1 ½ cups warm water
5 cups plain flour, include extra for rolling
2 tbsp extra virgin olive oil
2 tsp sea salt
350g tomato passata
100g goat's cheese
100g mozzarella cheese, slices
100g spinach & rocket leaves
250g cherry tomatoes, halved
Chilli flakes to serve
Procedure
Combine yeast and sugar in a large bowl. Place the bowl to the side for 5-10 minutes until bubbly.
Add flour, oil, and a pinch of salt to the large bowl and stir with a spoon until the yeast mixture is smooth. Add a little more water or flour if needed, to form a smooth dough.
Knead dough on a flat surface for 5 minutes until smooth and elastic.
Heat pizza stone in the BBQ to high, or till 300 degrees Celsius.
Lightly dust a clean work surface with flour and divide dough into 6 even pieces. Roll out each piece until 5mm thick for size.
Spread tomato passata on each base.
Top with goat's cheese, mozzarella, cherry tomatoes and a drizzle of olive oil.
Cook on pizza stone for 5-6 minutes, rotating halfway through cooking.
Remove pizza from stone, place on a board and top with spinach, rocket leaves and drizzle of olive oil. Add some chilli flakes if you like.